Produced by RTE at the CONVENTION CENTRE Dec 2022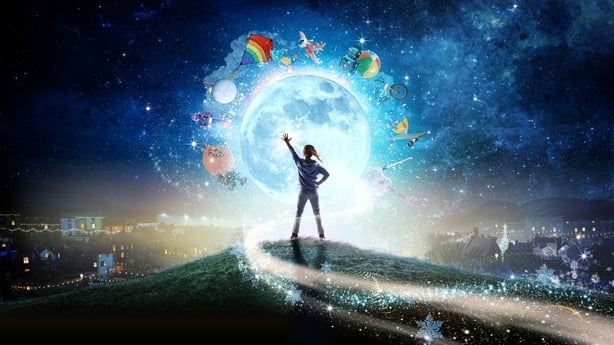 On the eve of the Late Late Toy Show, twelve-year-old Nell Mooney is determined to recreate her Mam's favourite Toy Show night traditions, but not everyone in her family wants to remember the past. Disaster strikes, and with the entire Toy Show in jeopardy, Nell and the local kids must find a way to save the night and keep everyone's favourite TV show alive.
"Toy Show the Musical celebrates one of our nation's most loved traditions and in that, recognises the importance of play, the transformative power of the imagination, and the strength, bravery, and resilience of children." Director Séimí Campbell
"Has perfect recipe to become an instant Christmas classic", Irish Examiner
"A rollercoaster of emotions", Evoke.ie
"… Will likely see not a single dry eye in the house", Buzz.ie
Jamie Beamish (Bridgerton, Derry Girls, Otto Bathurst's Halo, Billy The Kid) will play the role of Dad, aka Brendan Mooney, the father of the lead character of the musical Nell.
Clare Barrett (Fair City, Medicine, Wild Mountain Thyme, Trad) has been cast to play Nell's Mam, Áine Mooney.
The role of Nana will be played by Anna Healy (The Spin, The Last Return, Mother's Day and Emmerdale).
Dee Forbes, the Director General of RTÉ, has defended Toy Show the Musical following negative reviews, saying "the audience reaction so far has been fantastic". Ms Forbes said "families and children are really loving the show", saying it was "always going to be a show led by children for children, in keeping with Toy Show itself".
Toy Show the Musical: We went to the opening night. The news isn't good
Sarah Keating – Irish Times
In the opening moments of Toy Show the Musical an ensemble of children are performing an elaborate song-and-dance countdown. "Only 12 more hours to go," they sing energetically, impatient for "the one and only night when we all come together" to begin. Are they talking about Christmas, a person might legitimately wonder, looking at the sparkling lights and gingerbread clues, or about the arrival of Santa Claus? No. They are waiting for The Late Late Toy Show, which in this odd confection from Jane Murphy and Katherine Drohan elevates the annual TV show beyond its status as a contemporary cultural tradition to that of a national holiday.
The book and lyrics from Lisa Tierney-Keogh and Jamie Beamish create a plausible storyline for proceedings, with RuthAnne Cunningham and Harry Blake's wide-ranging music offering a skeleton structure to the plot. It is Toy Show eve, and the kids of Tricycle Street are especially excited for this year's programme, as one of their friends, Billy Bagpipes (Calum Kieran), is due to perform. Nell Mooney (played on opening night by the spunky Clare Keely) has some trepidation: it is the first time that her late mother (Clare Barrett) will not be present to conduct the family's Toy Show rituals, and she is not sure her father (Beamish) wants to participate at all. When an all-island power cut puts a stop to festivities, Nell and her gang of friends (who include several stars from previous Toy Shows) step in to save the day.
There is much to admire in the ambitious staging by Séimí Campbell, which moves along quickly on Colin Richmond's revolving set. Puppets stand in for lead characters in flashbacks. The adult ensemble animate pieces of furniture. A miniature streetscape offers panoramic views of the community, a symbol also of the greater global community the musical invokes. Richmond's props and costumes are also noteworthy, adding an ingenious and inventive DIY feel that will inspire creative children.
But the production cannot shake off its indebtedness to the source material it seeks to celebrate. The Late Late Toy Show may have become an important element of an Irish Christmas, but the musical tries far too hard to make a case for its significance. Despite the talent evident on the stage and behind it, it is difficult not to feel cynical about the artistic intention of what is essentially a spectacular, self-congratulatory marketing ploy.
Forget the politics, the Toy Show musical is good innocent fun
RollerCoaster.ie
There's absolutely no doubting that the Late Late Toy Show has become a seminal programme in the Irish psyche, spawning, among other things, pyjamas, sweet filled boxes, mugs, games, dicky bows (yes, really) and slippers.
Your social media feed alone is filled with enough proof that this is now a 'thing'.
The last Friday in November has become the day when Christmas trees are decorated all over the country, when families gather in matching pyjamas dear lord, spare us from the onesies and the children are force-fed sugar-filled sweets in a bid to keep them awake for at least a half an hour of it so that parents can feel less guilty about being glued to it until the bitter end.
What started as a short slot on the country's most popular talk show has grown to become a broadcasting behemoth, with tickets like gold dust and advertising slots a coveted splurge.
Nell Mooney played on opening night by the wonderful Clare Keeley is facing into the season with a bit of a dilemma.
It's the first year without her mother (Clare Barrett), who loved Christmas, and she wants to recreate the happy times her family all had together, but her dad (Jamie Beamish, who also wrote the book and lyrics) is not getting into the spirit at all. She's helped somewhat in her bid to jolly up the neighbourhood by her lovable but rather bonkers grandmother (Anna Healy), who may or may not be dating two men as well as attending judo and flamenco classes.
There are upbeat tunes and dance sequences aplenty, with delightfully nutty teachers, overbearing mammies and an enthusiastic lollipop lady all adding to the colour.
Of course, this being the Toy Show, there is an element of tragedy too. As Nell and her brother Luan try to come to terms with their mother's death by still talking to her and via flashbacks to when she was still alive, their dad is happy to bury himself in his work fixing clocks and hoping the season will just pass him by.
But Nell is determined not to let that happen. She brings home a tree so big it can't fit in the house, she wants lights that can be seen from space, and for their family to laugh and sing together again.
The talent on display in this staging is of a very high calibre indeed the young actors in particular are as precocious and adorable as you'd expect.
The beauty of the real Toy Show, of course, is the sheer unpredictability of it all, the inability to know what the children are going to say or do, the expectation of what could go wrong. In the absence of all of that, the musical's script is strong enough to carry it. It's 90 minutes, without an interval, and it flew by.
I brought three girls with me, aged 17, 13 and 11, and they all loved it. There may be much to criticise about the politics of this show, but there's so much to praise about the staging.
'Toy Show: The Musical' cancels performances as RTE boss forced to publicly defend it
The stage musical has been hit by illness
Lauren Murphy – Entertainment.ie
It seems like a wonderful idea in theory – a stage musical based around the most magical Irish family television event of the year.
In reality, it seems that Toy Show: The Musical has not been as warmly received by the public as RTE bosses may have anticipated.
The show, which is currently running at Dublin's Convention Centre after opening there last week, and features original songs by pop songwriter Ruth-Anne Cunningham, has cancelled five performances – citing illness among the cast as the reason.
The affected shows were due to take place on Saturday and Sunday with RTE releasing a statement saying "It is with deep regret that due to illness in the cast and crew that RTÉ Toy Show the Musical had to cancel its afternoon and evening shows today and its three shows tomorrow.
"The team did everything possible to avoid this situation and are truly sorry for the inconvenience caused. Our ticketing partner, Ticketsolve will be in touch as soon as possible with those with tickets for cancelled shows regarding rescheduling or refund options.
"As media fragments, RTÉ, as a dual funded public service media organisation, has an obligation to diversify its commercial activities beyond advertising. We must try new things, to grow and sustain all we are obliged to do," Forbes wrote. "Inevitably when we do something new, it attracts attention. While the BBC (and other broadcasters) has developed many live shows based on some of its big TV properties (eg, Top Gear, Strictly Come Dancing, Dr Who), this new show, developed over the past few years, is a new departure for RTÉ."
She went on to say that the employment of mostly Irish cast and crew, and nurturing the development of the young cast into the stars of tomorrow was a "key aim" in developing the show.
"The attempts by some to pit Toy Show the Musical against other productions is at odds with the broad support we have received from the theatre world," added Forbes. "It is also at odds with the amount of airtime support RTÉ routinely makes available to live events of all kinds through its RTÉ Supporting the Arts scheme."
She went on to say RTÉ was "very proud" of the show and that it had not detracted from the organisation's World Cup coverage, developing documentaries like 'Quinn Country' or their political news coverage. "RTÉ has long had to do many things at once," she said, "that's what we're here to do."
"While there is a significant degree of resilience in the cast, where roles can be covered by understudies, given illness persists among a cast of predominantly children, it is necessary to make further adjustments to the schedule this week," it read. "On Wednesday 21st and Thursday 22nd we will be reducing the number of shows from three performances a day to two, cancelling the 12.30 show on Wednesday and the 7.30pm show on Thursday.
Ticketsolve, our ticketing partner, will today be contacting those affected regarding rescheduling and refund options. We will of course be offering full refunds. In addition, for those who missed the show due to the cancellations, we would like to a 25% discount on tickets to attend a show this week or next. We sincerely hope those affected by the cancellations can find a time to come and see the show.
The Toy Show the Musical team is truly sorry for the real inconvenience these changes have caused. We have been monitoring and responding to ticket holders on social platforms and are very aware of how disappointed and upset families were that the shows were cancelled, particularly at such short notice. The team tried its very best to make the shows happen, but ran out of time and options and had to cancel. The adjustments we are making to the schedule this week are to minimise the risk of that happening again.